Online casino games are popular with people all over the world. The huge popularity of these games can be attributed to their accessibility, entertainment value, variety, and of course, the potential to win big.
However, choosing the best game to play isn't always easy. There are more than 2,000 online casinos we can choose to play in. We then have thousands of games to choose from. We can play jackpot games, card games, slot machines, and so much more.
With so many casino games to choose from, you might want to start with the most popular types of games. If so, you've come to the right place!
Today, we're going to show you 5 of the most popular types of online casino games you can play right now. We'll tell you a bit about each casino game, and what makes each one so popular.
Let's begin!
1. Slots
It is widely accepted that slot games are the most popular online casino game. Their popularity is for good reason. Firstly, every online casino game website you visit will have hundreds of different slot machine games to play. This gives you more variety when it comes to picking a game you want to play.
Secondly, slot games are usually incredibly easy to play. More often than not, all you have to do is put up a stake and click a button. The game will do the rest of the work for you. Similarly, there is very rarely any skill involved with slot games.
Finally, people also love slots for their massive prizes. Slot games have been known to pay out hundreds of thousands, if not millions of dollars.
There are six main types of slots you can play online. They are classic, interactive, five-reel, six-reel, and seven-reel.
2. Blackjack
We're pretty sure you'll already know something about blackjack as it is one of the all-time classic casino games. Easily one of the most popular games in online and real casinos, blackjack is a fast-paced and easy-to-play game that you'll love.
Playing is super simple and exciting, and the potential to win is quite large. To win a game of blackjack, you have to beat the dealer. The dealer will give everyone at the table two cards. 
The aim of the game is to be closer to 21 than the banker. You can ask for more cards but you can't go over 21. If you get closer to 21 than the banker, you win. 
There are different rules and variations of blackjack but all of them are straightforward.
3. Roulette
Next up, we have roulette. Roulette is another casino game that has been one of the most popular games online and in real casinos for many years. Once again, it's another simple game to play.
Like in the casino, online roulette offers an exhilarating experience. In roulette, a ball is dropped into a revolving wheel that contains numbered and colored compartments. There are multiple ways to win including picking the right number, the correct color, the right group of numbers, or by calling odd and even numbers.
All bets must be placed before the wheel is spun. Then, all you have to do is watch and see where the ball lands. While roulette is a game of luck, you can use various tactics to maximize your potential winnings.
This is a great game to play if you want the chance to win big.
4. Poker
Poker is a popular game with players that want to play a game that involves skill. It is different from most online casino games because players don't compete against the house. Instead, they compete against each other.
Poker is one of the more complicated casino games, but it's also one of the most entertaining and rewarding.
Online, you can enter one-off cash games and tournaments against real players from around the world. The most popular types of poker are Hold'em and Omaha. In Hold'em, players are dealt two cards. Five community cards are then displayed.
More often than not, the prize pots in poker are large, so this is a great game to play if you want to win big.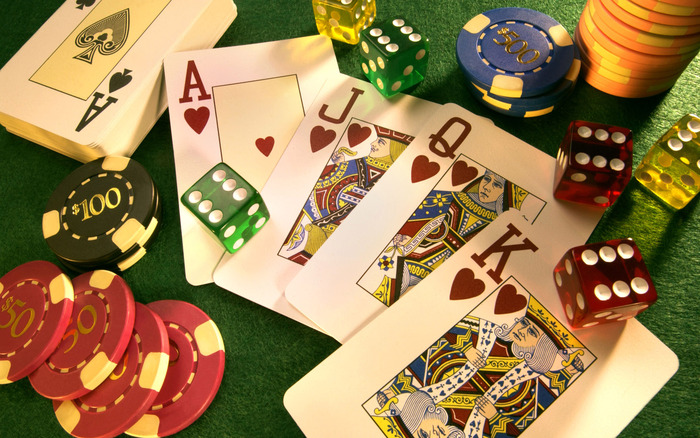 5. Baccarat
Baccarat hasn't always been one of the most popular casino games but its popularity has risen in recent years. This is mostly down to how easy the game is to play.
All you have to do in a game of baccarat is bet on who will win between the player and the banker. The rest of the game is handled for you, with you winning if you predict the correct outcome. 
The game begins with two cards, dealt to the banker and player. Whoever's hand is closest to nine wins. If you win, you double your money.
Final Thoughts
The 5 online casino games we've looked at in this post are arguably the most popular types of casino games you can play online or in a real casino. They are all fairly easy to play and entertaining.
The beauty of online casinos is that you can play a variety of different casino games in one sitting. Therefore, you could quite easily give all of the games from our list a try to see what you think.
With that being said, why don't you check each game out and decide which ones are your favorite?