Speeding up a video can be used for a comedic effect, as a time-lapse, or for interesting cinematography, among other things.  So whether your interest is in moviemaking, film production, or just editing your personal videos in an entertaining way, this guide will show you the quickest and easiest way to get the desired effect.
How to Speed up Video on iMovie in Mac?
Speeding up a video in iMovie is quick and intuitive. Once you've decided what videos to speed up, open up iMovie and click on File and then select Import. Now you can select where the video is stored on your hard drive. Alternatively, you could import directly from any cameras connected to your Mac by clicking on 'Import from Camera'. If you're working on an existing project, simply drag the clips from the event browser to the project.
Next, follow these quick and easy steps to speed up a video:
Click on the video clip in the timeline.
Click the Speed Button, which aptly looks like a speedometer.
You will now see "Speed", which can be set to fast or slow. Select fast in the drop-down box. You can also select custom.
Now the fun begins: choose how much you want to speed up your clip by. You can increase it by 2x, 4x, 8x, or 20x. If the clip is shorter than 0.1 seconds, you will have to enter a custom speed. If you're trying to set a custom speed, you need to enter a value greater than 1. So 2 would give you 2x the speed and so on. You should also see a little rabbit icon appear on your clip in the timeline.
Decide whether you want to preserve the pitch. Speeding up the video automatically causes the pitch to become higher, with a chipmunk-like effect. If that isn't something you want, click on preserve pitch.
You can also get this effect by simply right-clicking the video clip on the timeline and selecting "Speed and Duration". A window will then pop-up, and you should see a speed slider. Move it to the right to increase the speed or enter a custom value of your choosing.
Can I Speed up Specific Parts of Video on iMovie?
Understandably, you might not want the entire video clip you imported to be sped up. Fortunately, you can just as easily speed up only specific sections of a video. Here are the steps:
Go into the timeline in your project. To select a specific part of a video clip, hold the R key and drag across the desired section of the video.
Once again, open the speed controls by clicking on the Speed button.
You now have two options:
Choosing "Fast" in the pop-up menu. Like in the previous part, you can now choose one of the speed options.
Setting a custom speed by choosing "Custom" in the pop-up menu. Type a number greater than 1 in the field to speed the clip up.
When the clip transitions from normal to fast or vice versa, the change can be abrupt. To have the speed changes occur gradually, be sure to select the checkbox that says Smooth.
You can adjust the speed of the selected range or the part of the clip surrounding it as well. To do this, simply drag the speed slider that shows up on the top of the sections of the clip. This will let you speed up or slow down that part of the clip.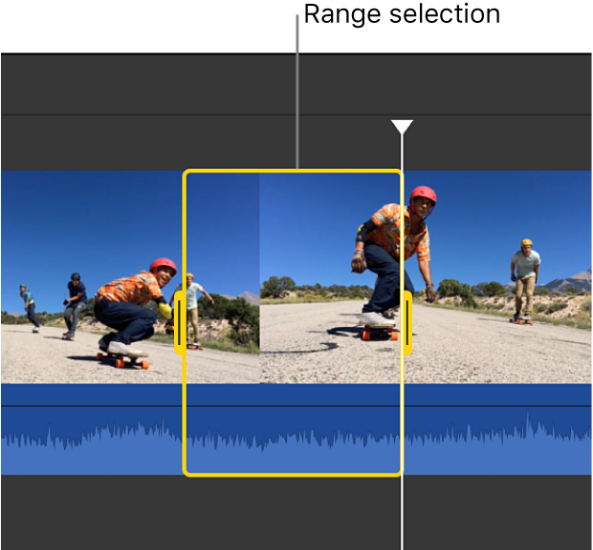 iMovie Alternative for Speeding up Video Easily – iMyFone Filme
While iMovie is great, it's only available for Mac. If you also use Windows or just want an alternative to iMovie that's fast, easy to use, and extremely versatile, try iMyFone Filme. Among other things, you can also use it to speed up videos. Here's how:
Click on the import option on the right corner of the Filme Window to import your video clip.
Click and drag the video to the timeline
Click on the Speedometer icon in the toolbar. You will now see a pop-up window that lets you adjust the speed to your liking. Set the value at a value greater than 1 to speed up the video.
If you're happy with the speed, you can export the video by going into the Export menu.
That's it! As you can see, speeding up a video in Filme is very quick and easy. Adding other effects is also just as painless, which is what makes it such a great video editing software. Everything from creating seamless slideshows, adding picture-in-picture effects, performing multi-layering of videos and audio to making cinematic titles is easy to do in Filme.
Final Words
Speeding up a video is something everyone with interest in videography does at some point. As you saw in this guide, achieving this effect in iMovie is fast and easy. However, if you need an alternative to iMovie, iMyFone Filme is the perfect choice for all your editing needs.