With so many social media options available, it is no wonder that more and more people are looking for alternatives to Luckycrush. The platform started in 2013 as an alternative to Chatroulette but quickly rose to popularity due to its interface and design, with an increasing user base each year.
Though not much has changed regarding features or improvements since then, its continued existence in the market is proof of its longevity and reliability.
However, with so many streaming options available nowadays, we've come up with 19 alternatives to Luckycrush that you can use for an engaging chat experience this year.
Current Status of Luckycrush in 2023
After standing triumphant through the years, not much has changed since 2013 except more people signing up.
Though they have started incorporating new features like emojis and filters and making their interface better for the user, 2023 is shaping up to be an excellent time for Luckycrush users.
It's estimated that its global reach has grown over 6 times in the past 10 years, and more people are signing up daily.
By this year, they will have reached 109 million overall active users – an impressive feat by any stretch of the imagination.
Best Alternatives to Luckycrush
While most people use Chatroulette or Omegle for anonymous online conversations, plenty of alternatives provide users with the same experience. Here's a list of 19 Luckycrush options from around the world that you can use to chat and connect with people of different backgrounds and interests.
Omegle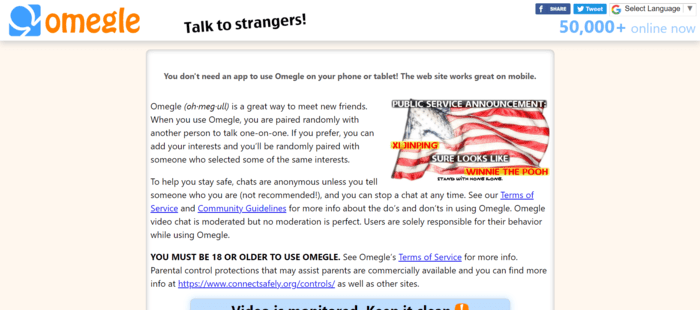 This website, launched in 2009, has thrived and is enduringly popular among those seeking random video chats. It facilitates text, voice messages, or cam chats with strangers randomly picked by the website. Omegle also provides different filters for finding who to connect with, such as country, gender, or other interests.
Chatrandom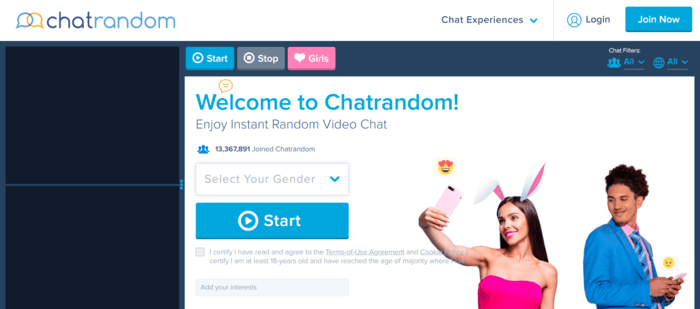 This site has surged in popularity since 2011 and is one of the leading contenders for random video chat sites online today. You can even spot tons of its ads scattered throughout various streaming platforms, making it all the more enticing.
It's a great place to meet new strangers worldwide by engaging in text chats and conducting one-on-one cam chats.
Bazoocam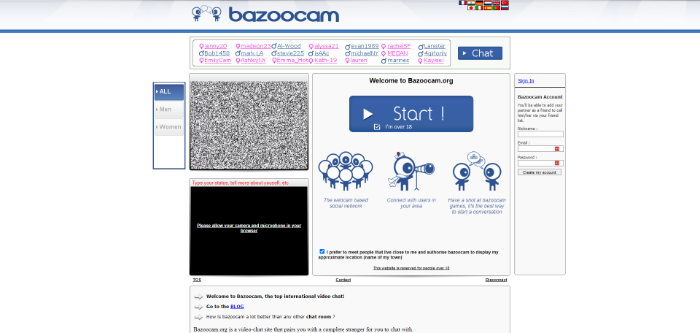 If you're looking for exciting conversations, this platform is for you! You can chat with people from over 150 countries, and up to 1 million users browse it daily.
It also boasts video game modes like Tetris or Tic Tac Toe, which makes your chatting experience even more fun.
Tinychat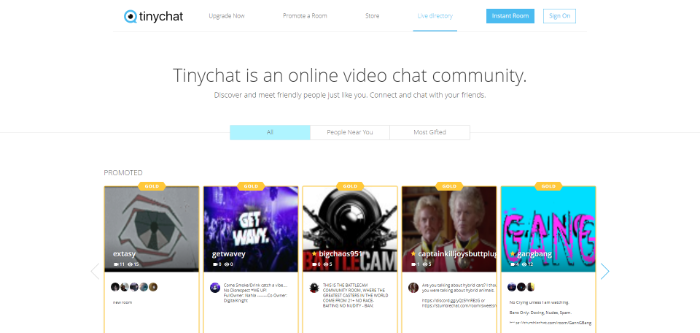 Another great option if you're a fan of audio/video chat sites, this website allows you to conference with more than one person at once. Its built-in filters help users choose the country and age range of the people they want to hang out with on the platform.
Fruzo
This is another excellent option if you're interested in social networking or making friends with strangers who share similar interests as yourself! It provides an interesting take on traditional dating/social platforms by facilitating cam text chats and conducting live webcams.
One of its great features for personalization is that you can create profiles based on your specific interest, which makes searching easier.
Camzap
This one provides users with an intuitive and easily navigable interface and allows connecting to multiple strangers by each user at once.
It offers quick conversations and group chats, making everyone feel welcome equally. Apart from engaging in random video calls, it provides great deals directly from different brands catering to various interests.
Chatroulette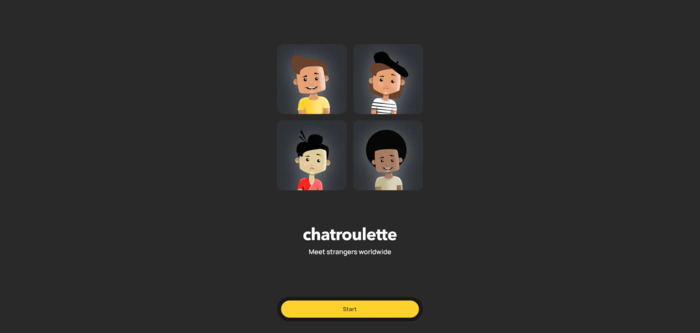 As the pioneer amongst all these platforms, it makes a great alternative if you're looking for conversations with old friends or meeting new ones.
It has stood the test of time since 2009, and people from over 140 countries are connected at any given moment.
Faceflow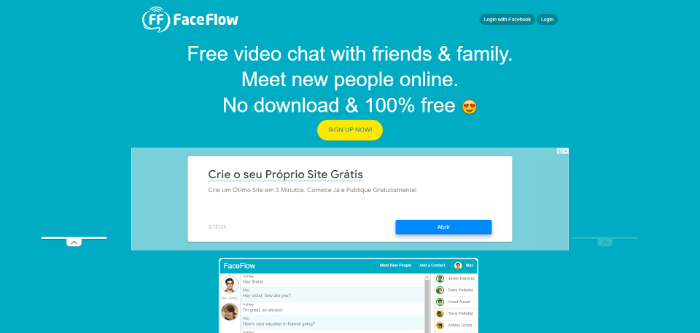 Another popular choice in random chat sites, this platform is well known for its video calling feature. It allows you to see up to 6 different people simultaneously in one single call.
Yubo
This platform is different and looks more like Instagram than Chatroulette, but it's still great for making new friends off the grid. It's often referred to as the 'Tinder-for-teens' and has attracted millions of users since its launch in 2015.
MeowChat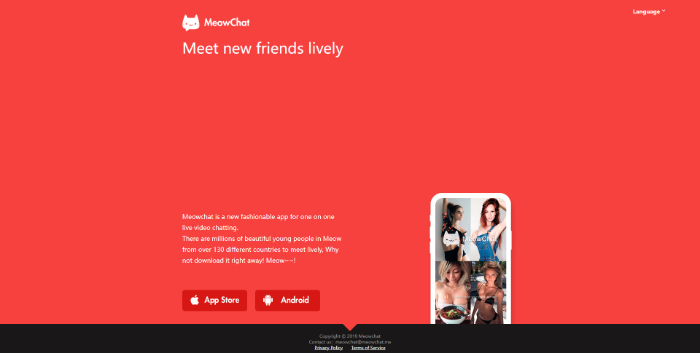 A user-friendly webcam chat site, this website lets you talk with strangers without any language barriers. It offers its own language translation tool that helps bridge the gap between strangers and enhances your conversation seamlessly.
ChatHub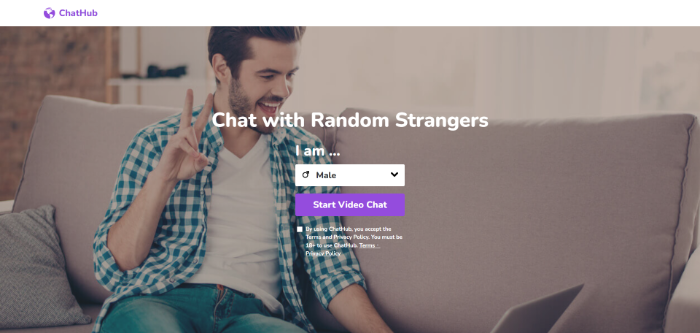 If you like meeting new people through casual video conversations, this is the right option! It allows up to 8 different users in a single chat room. It offers exciting possibilities like chatting with someone nearby or randomly picking someone from another country, so there's more diversity while talking.
MiraMi
MiraMi is a relatively newer option and a popular website if video/audio chats are your thing. It also provides its users with funny GIFs and emojis that can be used to spruce up conversations and virtually award viewers for their talks!
Random Video Chat
This is another great platform where you specify language preferences before entering the chat room so that everyone involved understands each other better. The app interface supports up to 70 languages, which significantly helps while making new friends and (online) strangers around the world.
ChatSpin
This one is a serious competitor amongst random video chat sites, as it supports up to 4 different webcams and allows image uploads directly from your camera or gallery. It also customizes personal profiles about gender orientation, age limits, etc., so direct matches can be made quickly for better connectivity.
Shagle
Though this site became quite famous amongst its users shortly after its launch in early 2020, it still needs to improve its user base. This site focuses more on connecting with strangers through webcam and text chats rather than complete profiles, which adds a unique element of surprise to each conversation!
Camsurf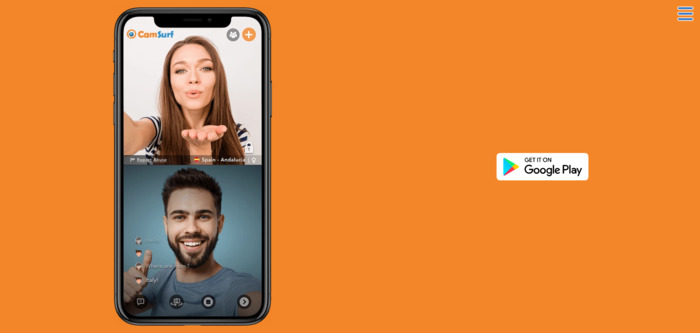 A great platform if you fear the prospect of being seen in public places while on video conversations, Camsurf offers an intriguing facade with its completely anonymous interface. It's often referred to as one of the safest websites out there for online chatting due to its encryption technology that prevents any outside interference.
Chatki
This website is for those who have an affinity toward Eastern culture! It offers popular IM programs like QQ, WeChat, and other top-rated Asian apps used across messenger devices worldwide, in addition to arranging intended chats offered by its users from different countries.
Emerald Chat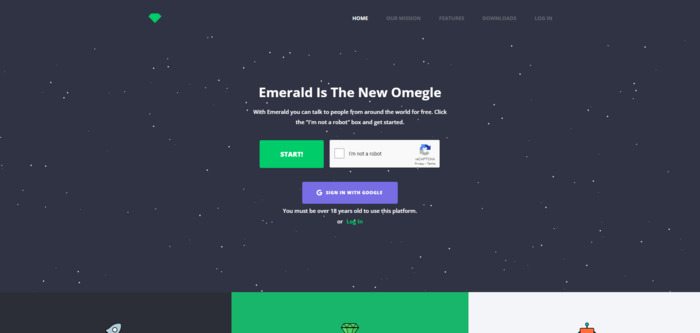 As one of the recent entrants into this industry, this site provides a clean and elegant interface that combines both video and written conversation in an effective way. Users frequently use this platform to find great life partners through their chats with other people here.
Chatous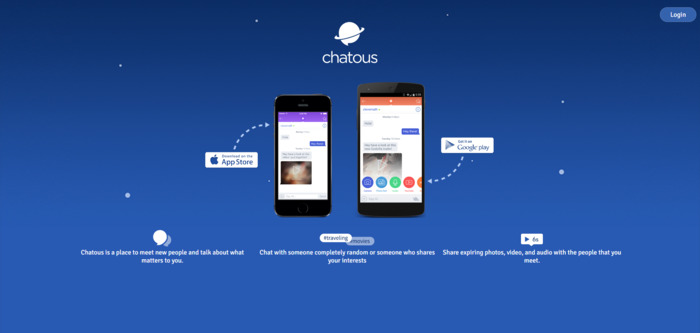 This app is quite well known for its ease of use for making conversations with strangers and allows sharing texts, photos, or multimedia files as well that you can take advantage of if looking to make a lasting impression!
FAQs:
Q: Is Luckycrush free?
A: Yes, Luckycrush is entirely free with no hidden charges or fees associated.
Q: Does Luckycrush offer text chats?
A: Yes, in addition to the typical audio/video chat, Luckycrush also provides the option of text chats with strangers.
Q: Does Luckycrush allow multiple conversations?
A: Yes, you can engage in up to 6 simultaneous conversations on the platform, which makes it great for chatting with family or friends!
Q: Is there a mobile version of Luckycrush available?
A: You can easily download and install their app from Google Play and App Store.
Q: Does Luckycrush have any parental control features?
A: Yes, you can set age restrictions for other chatters and assign a password so only the ones with that specific code can connect to your chat room.
Conclusion
With such an extensive list of Luckycrush alternatives now available, it is so much easier than ever before to meet someone from a different variety of interests and backgrounds without having to pay anything. 2023 is shaping up brilliantly, and it will only get better! These sites make chatting and making new friends seamless, so explore your options today.