Cisco Webex provides a product suite that lets users both collaborate and engage in video conferencing. The suite is cloud-based and makes use of software such as Webex Meetings, as well as Webex Devices and Webex Teams. The Webex Suite is a merge of the Cisco Spark team collaboration app and the Webex web conferencing platform. It was to centralize Cisco's collaboration portfolio that the rebrand under Webex happened in April 2018.
File sharing, virtual meetings, and team messaging are some of the capabilities that are available with Cisco Webex products. Within the unified communications world, this suite is recognized as a leading collaboration platform and is suitable, not only for small group collaborations but also for extensive meetings with many attendees.
Users can join a video conference either from their desktop or by using their mobile app. Webex also has a web version available. However, it has limited features in comparison to the other versions. Team messaging and the sharing of files are also possible for users. Cisco Webex Meetings and Webex Teams apps both support this service.
What Can Users Of Cisco Webex Avail Of?
Webex Teams
This cloud-based collaboration app allows users to engage in video meetings, team messaging, sharing of files, and whiteboarding. The persistent virtual meeting room means that team members who are in-office, as well as those who are remote, are able to easily collaborate. Although it is mainly cloud-based, Webex Teams is also able to support on-premises and hybrid systems.
Third-party app integration is also possible with Webex Teams; this can be for the likes of project management services like Pivotal and Tracker or for client relations management, for instance, by integrating Zendesk. Integrations through APIs are also available through the Cisco Webex for Developers program. On this platform, developers are able to create custom apps that allow for efficient Teams capabilities into the typical workflow of the team.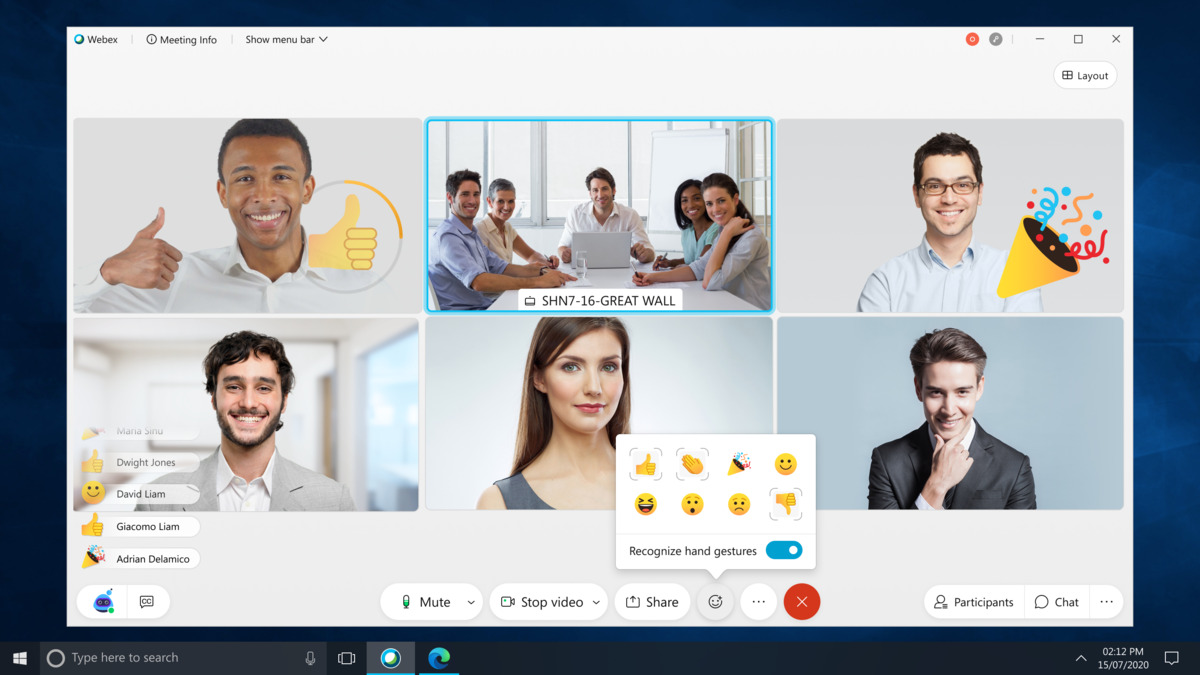 Webex Meetings
This is the cloud-based web and video conference service by Cisco, which lets teams collaborate and meet on a global level, in real-time, using their mobile devices and video systems. Screen sharing, recording of meetings, and a custom layout are all possible, as well as meeting broadcasting.
Integration with Slack and Microsoft Teams is also possible, which means that users can both start and join Webex video conferences directly from their platform of convenience. Calendar integrations, for instance, with Outlook or Google calendar, are also possible with Webex Meetings, as we as IBM Connections and OneDrive integration to allow for file sharing.
Personal rooms are another feature of Webex Meetings and let users schedule meetings, as well as leave rooms open for ad hoc meet-ups. Users can use Webex Teams to schedule a meeting, join from Teams, and still continue a conversation in Teams when the meeting has finished.
When it comes to large-scale events, including webinars, Webex Meetings can support the event very well. Interactive events for a maximum of 3,000 attendees can be catered for using Webex Events. For live or on-demand training that allows for testing and automated grading, Webex Training can cater for more than 1,000 attendees. For an especially large event, Webex Webcasting can cater for over 40,000 participants.
A customer service option is also available on Webex Meetings which is named Webex Support. Video conferencing, live chat, and remote desktop control are all features of the service.
Webex Devices
A number of devices are available with Cisco Webex with the Webex Room Series and the Webex Board. The Webex Room Series are device kits with speakers, a camera, a microphone, and a codec. These can integrate with flat-panel displays and also work with both on-premise ad cloud use. A maximum of 7 participants can take part in the meeting room using the Webex Romo Kit, or the Room Kit Plus allows for 14 participants.
For meetings that fit into the small-medium category, Webex Room 55 can seat between 6 and 8 participants. There is a 55 inch 4K display, as well as the above-mentioned devices. For meetings of up to 14 people, the Webex Room 70 is a good option and allows for either single or dual 70 inch 4K displays, as well as the above-mentioned integrated devices. The Room 55 and the Room 70 are designed for on-premise or cloud use and have additional capabilities such as speaker tracking.
Featured in the Webex Board is either a 55 inch or a 70 inch whiteboard, allowing for wireless presentation and video and audio conference and the annotation of content. Any content that is created using the Webex Board is stored in the cloud and hence the Webex Team app can be used to access the content.
How Does Webex Work?
It doesn't matter whether a user joins via Webex Meetings or the Team apps. It is the Webex backbone network that is behind all virtual meetings. The Webex Hybrid Service allows for both on-premise and hybrid deployments. When using the hybrid service, a connection is made between the cloud-based capabilities of Webex Teams with the on-premises Cisco communication systems. Video Mesh is also offered by Cisco Webex; this allows local users to stay on-premise while remote users or overflow users are pushed to the cloud.
Users are able to start a meeting, schedule a meeting, and conduct a meeting using Webex Meeting Center. Users are able to use Microsoft Outlook to prepare a meeting invitation. All that is required to invite an attendee is their email address. The user is then able to use their mobile phone or desktop to join. It is also possible to interchange the device mid-conference.
Within the Training Center, users are able to set screen views automatically – this is file-type based. Hence, in the event that a user wishes to show a PowerPoint presentation, the slides will be displayed automatically. Attendees can also be given permission to edit files.
The Event Center can support 3,000 attendees. Chat and polling features make these meetings interactive when required.
A cloud-based phone system is also provided with Webex, called Webex calling. Users are able to call directly from Cisco IP phones or from Webex Teams. The Hybrid Service also allows Cisco phone systems and Webex Teams to be connected. However, there is a need to purchase PSTN services from a third party. Within Webex Teams, 911 calling is supported, it is possible to set a service address for each PSTN number.
The Pros And Cons Of Webex
Video conferencing tools such as Zoom already exist and are popular; this means that Webex needs to provide users with features that will draw consumers away from their existing choice. The pros that come with Webex include:
– A choice of voice options including computer audio, phone, and HD video
– It is possible to switch device mid-conference or to join on multiple devices
– Files can be shared, and content sharing is possible for web use
– Annotation is possible
– Call recording is possible
– Screen sharing is available, as well as chat
– Remote screen control is possible
– Enhanced security features
– Integration possible with Microsoft Teams, Cisco, and other applications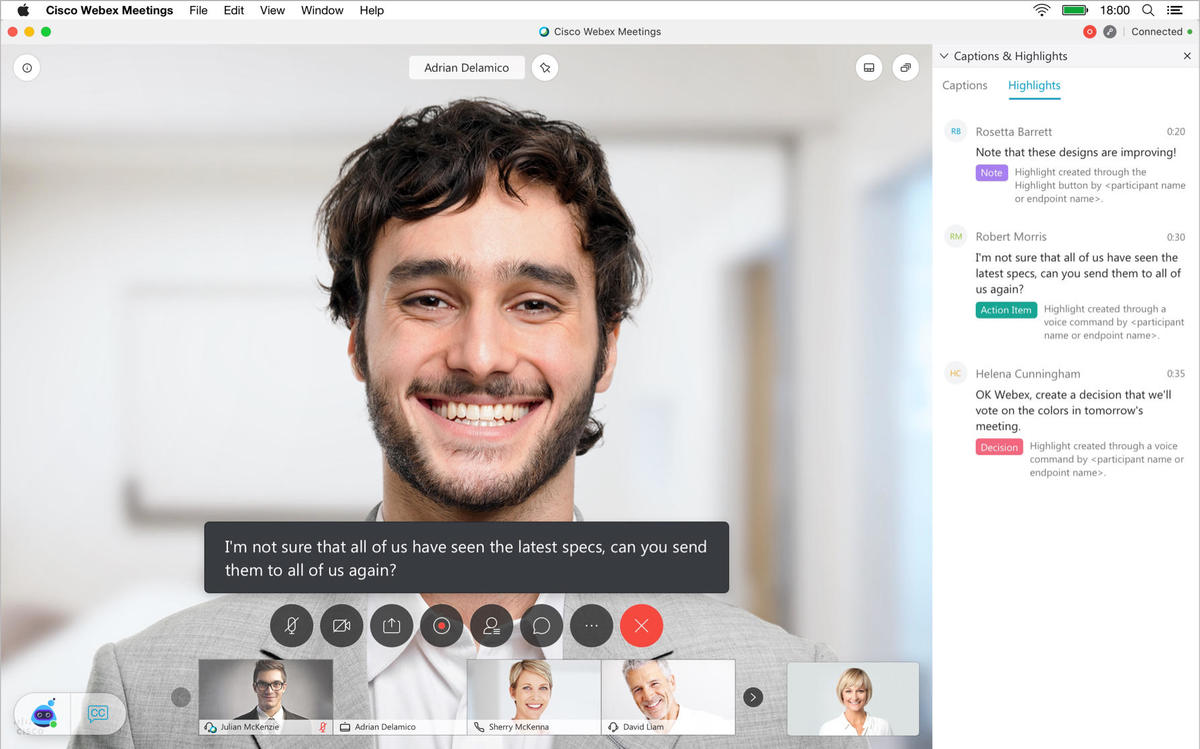 The Cons of Webex are:
– A higher price when compared to Microsoft Teams and Zoom
– Menu system and UX can be hard for some users to navigate effectively
– Some audio issues have been experienced when non-Webex users use audio to connect
– Some issues have been experienced migrating from legacy Webex systems.
Webex Security
Sensitive data is encrypted at rest in Webex Meetings, while media streams are encrypted during sessions. Customers can choose end-to-end encryption as an option. Certifications that Webex has include SSAE-16, ISO 27001, and SOC 2 Type 2. For government organizations, Webex Meetings also has certification with the Federal Risk and Authorization Program.
The History Of Cisco Webex
Subrah Iyar and Min Zhu formed WebEx, as it was called at the time, in 1995. Dave Berman, former Zoom President, is another notable figure in the history of Webex. His role was that of worldwide sales and services for WebEx.
In 2000 WebEx made its first offering to the public. It was in 2005 that Intranets.com was acquired by WebEx. This meant that WebEx was in a position to provide clients with collaboration tools. One example of such was the ability of WebEx to offer document and calendar sharing while Intranets.com allowed for access to the WebEx communication environment.
In 2006, the company WebEx was gaming the NASDAQ National Market listings, as well as the NASDAQ Global Select Market. Then, in 2007 the company was acquired by Cisco. The purpose of Cisco buying WebEx was to be in a position to compete with collaboration software vendors like Microsoft. In April 2018, the new name Webex Meetings was decided on.
In 2014 a new service was launched by Cisco. In 2015, the rebranded product Cisco Spark Webex Teams was born, and in June 2018, a new user interface was formed.
April 2018 saw the Webex Suite form as a merge of Cisco's conferencing platform and the Cisco Spark team collaboration app. This created a centralized collaboration portfolio for Cisco.