Introduction and Its Features
Sporcle is an online trivia website founded by Matt Ramme back in 2007. It has grown to become one of the world's most popular websites for quizzes, attracting millions of users from around the globe. The primary purpose of this site is to help people expand their knowledge and improve their memory by providing them with exciting and challenging quizzes. There are various topics, including history, literature, sports and science, and different puzzles.
Current Status Of Sporcle In 2023
Sporcle has become immensely successful over the years due to its engaging quiz content; however, it still faces stiff competition from other trivia websites such as Kahoot!, Quizlet etc. To stay ahead in the competition, Sporcle has revamped its website with new features such as custom quizzes and grid-style questions to entice more users.
The Best Alternatives For 2023
Are you looking for alternatives to Sporcle? Don't worry; we got you covered here! We have compiled a list of 18 of the best quiz apps similar to Sporcle that will unleash your inner quiz master in 2023:
Kahoot!
Destination Link: kahoot.com
Kahoot is an education-oriented quiz platform based on gameplay. It helps students to review their lessons with the help of fun quizzes that make learning exciting and engaging. It also has a collaborative feature that allows users to collaborate in teams to display answers, solve puzzles, and play mini-games within the app during competitions or quizzing sessions.
Quizlet
Destination Link: quizlet.com
Quizlet is another popular alternative to Sporcle, with various quiz formats and activities such as flashcards, study games, and individual tests to help users expand their knowledge base. It provides an extensive set of teacher tools that can be used in classrooms by tracking student progress and assigning tasks. Quizlet also offers customized quizzes that can be shared on social media.
QuizUp
Destination Link: quizup.com
QuizUp is a classic quiz-based game where players compete against each other in fast-paced competitive sessions. It also includes the exciting group challenge mode that helps multiple users solve puzzles and win bonus points. QuizUp has an exhaustive library of questions and topics ranging from ordinary trivia to challenging graphics rounds and some offbeat options such as emoji mazes.
JetPunk
Destination Link: jetpunk.com
JetPunk is a website designed to help people strengthen their knowledge and skills by offering various options, from simple trivia quizzes to challenging rankings tests that measure your problem-solving speed. JetPunk also has an algorithm-based quiz-building feature. It allows teachers or quiz masters to make customized questions based on specific topics or themes, making it an excellent option for virtual classroom activities or remote panel discussions.
FunTrivia
Destination Link: funtrivia.com
FunTrivia is a website that offers a collection of quizzes on various topics such as TV, movies, music, and general knowledge. Its rich library has over 1 million questions, comprising over 50 quiz categories. It also has options to create personalized quizzes through polls or surveys that can be easily shared on social media.
Playbuzz
Destination Link: playbuzz.com
Playbuzz is a quiz-based platform that allows users to create interactive games and quizzes that can be embedded on social media channels. It is an excellent option for business organizations looking to engage with their target audiences in a fun and exciting way by leveraging its various features, such as quizzes, polls, or trivia-style questions tailored according to the particular needs of your marketing strategy.
The Quizopedia
Destination Link: thequizopedia.com
The Quizopedia is the perfect destination for people who want to test and expand their knowledge about various topics such as science, geography, history, and literature. It also allows users to openly discuss relevant issues with other community members by participating in its active forum section. Similarly, one can virtually join live quiz sessions conducted by experts worldwide.
Quizizz
Destination Link: quizizz.com
Quizizz is a one-stop destination for thousands of quizzes on diverse topics made by experts worldwide. This app also keeps track of users' progress and allows teachers to assign activities and monitor students within their virtual classrooms. With more than 20 million unique visitors every month, Quizizz is fast becoming a popular alternative for those looking for other options to Sporcle.
Maths IQ
Destination Link: mathsiq.com
Maths IQ is an e-tutor-based platform where users can practice math problems and compete against each other in quiz competitions on topics ranging from basic arithmetic to complex geometry. Players can win rewards on completing levels and unlock access to new challenges as they progress through the game.
playGeography
Destination Link: playgeography.com
If you are looking for a quiz site on geography and current affairs, play geography is the right pick! This quiz platform has multiple difficulty levels and many engaging questions regarding world history, places, and other geographical facts. There is also a leaderboard feature that tracks individual progress in quizzes.
TriviaMaker
Destination Link: triviamaker.com
TriviaMaker allows users to create customized quizzes. It is an ideal platform for hosting quiz competitions or corporate team-building sessions by leveraging the flexibility of its options, such as multiple-choice questions, picture clues, and word puzzles. It also helps keep track of players' progress with updates after every session.
Quizlet Live
Destination Link: quizlet.com/live
Quizlet Live is Quizlet's latest version with a live game feature allowing four teams to battle it in a simulated classroom environment by solving individual questions. It also has game add-ons such as a timer, navigation bar, and shortcuts for more straightforward navigation across the web application.
Gimkit
Destination Link: gimkit.com
Popular among students, GimKit provides a fun learning experience by blending traditional quizzes with modern gaming features. Its unique customization options allow users to design their educational activities from scratch while tracking individual progress within the given timeframe.
Quizlet Match
Destination Link: quizlet.com/match
This game is a unique addition to Quizlet; it allows users to learn new topics by playing against each other. The game consists of 4 teams trying to answer facts as quickly and accurately as possible to become the ultimate winner at the end of each round!
Quizlet Gravity
Destination Link: quizlet.com/gravity
Quizlet Gravity is a unique game where players fly across the screen while shooting stars and collecting facts to solve puzzles. It also has features like bonus points, mini-games, and collectibles that help users unlock rewards as they progress through the levels.
Quizlet Learn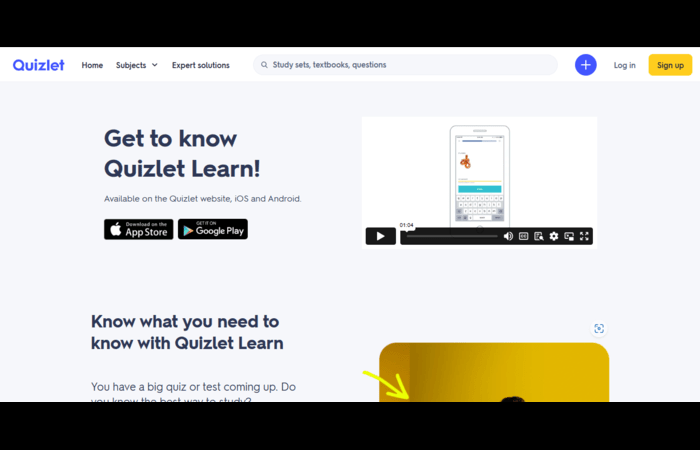 Destination Link: quizlet.com/learn
This app provides users with short and easy lessons on various topics in order to help increase their knowledge. It also hosts regular quizzes that helps users assess their progress.
Quizlet Flashcards
Destination Link: quizlet.com/flashcards
Quizlet Flashcards has interactive flashcards with audio-visual options designed to support people learning a foreign language or honing the pronunciation of unfamiliar words. The app has multiple-choice questions, diagrams, related images, and audio recordings to facilitate better memory retention.
Quizlet Diagrams
Destination Link: quizlet.com/diagrams
Quizlet Diagrams is an exciting quiz app focused on helping users gain knowledge by solving puzzles related to geography, chemistry, and biology that feature detailed visuals, animations, and interactive drag-and-drop options for user convenience. It also has its challenges for more advanced players in the same field.
Quizlet Tests And Games
Destination Link: quizlet.com/tests-and-games
This app is designed to help improve study performance by allowing users to practice in their own time, through the three main modes available: test mode, tailoring & game options . It also provides personalized studies which gives detailed insights on how one can shape up his or her answers for better accuracy.
Quizalize
Destination Link: quizalize.com
Quizalize has a range of interactive quizzes and test games tailored to different age groups that allow users to revise and assess their strengths before participating in competitions. It offers many customization options to make learning enjoyable and provides detailed progress reports with analytics on every session.
Socrative
Destination Link: socrative.com
Socrative is a quiz platform with several features, such as real-time quizzes, group activities, and polls, for improved engagement with students. It provides detailed insights on individual progress that teachers can use to help identify areas of improvement or strengths within a lesson plan.
Conclusion
Sporcle has remained the go-to destination for quizzes over the years; however, its competition intensifies with new applications becoming available daily. The list above provides a comprehensive overview of some popular alternatives to Sporcle, offering users varied functionalities ranging from fun trivia games to personalized quizzes tailored according to one's exact needs.
Sporcle FAQs
What is Sporcle?
Sporcle is an online trivia website founded by Matt Ramme back in 2007. Its primary purpose is to help people expand their knowledge and improve memory with exciting and challenging quizzes on various topics.
How many questions are there on Sporcle?
Sporcle has a library of over 1 million questions across 50+ categories sourced from experts worldwide.
Is playing Sporcle free?
Yes. You can play Sporcle for free by creating a free account.
How many players can compete in a single game on Sporcle?
Sporcle supports up to 4 players per game, depending on the type of quiz or challenge chosen. Additionally, there is also an option for team quizzes and group challenges.
Does Sporcle offer premium membership?
Yes. Users who want access to additional features, such as unlimited playthroughs and extra game modes, can opt for a Sporcle Premium subscription at $6.99/month.
Where are the questions sourced from on Sporcle?
Experts worldwide have contributed the vast majority of questions on Sporcle. All questions are verified and approved by an internal team of editors at Sporcle to ensure accuracy.