Introduction and its Features.
Brighteon is a free social media platform with user-generated content. It was launched in 2018 to provide an alternative to YouTube, which has become increasingly censored over the years.
With Brighteon, you can share videos online without worrying about censorship or moderation. In addition to providing a safe place for unrestricted expression, Brighteon also offers many features that make it a more entertaining and engaging platform than its competitors.
These features include comment sections, video recommendations, and channels for personalized content curation.
Current Status of Brighteon in 2023
Since its launch in 2018, Brighteon has grown rapidly and become one of the most popular free video-sharing platforms on the internet.
With over ten million active users from around the world accessing its unique features, Brighteon has established itself as a trusted alternative to mainstream video-sharing websites like YouTube.
Despite facing intense competition from other platforms such as Facebook, Instagram, and TikTok, it looks set to remain one of the most popular alternatives in the foreseeable future.
19 Brighteon Alternatives You Should Know About:
Rumble:
Punch up your content with Rumble – an innovative multimedia platform that provides users with an array of compelling features.
With Rumble, users have the option to monetize their content, share it with family and friends on social media, or simply access a wealth of videos from other professionals in different fields around the globe.
Additionally, Rumble offers synchronous playback between multiple devices connected at once and real-time chat as well as user recommendations for finding quality content quickly and easily.
Bitchute:
Founded in 2017 by web designer Ray Vahey, Bitchute is a free video-sharing website with no censorship or restrictions. It also offers one of the quickest upload and deletion times for videos on the internet today.
With support from users around the world, Bitchute enables users to access uncensored content hosted on its own servers instead of relying on third-party services such as YouTube or Vimeo.
Odysee:
Odysee allows you to store your videos in an encrypted format for maximum security. Its decentralized file servers ensure that video remains accessible, even if its source is inaccessible or removed.
On Odysee you can also share your videos with the larger community and interact with like-minded people through comments, suggestions, and upvotes – all while taking advantage of the excellent storage solutions on offer.
LBRY: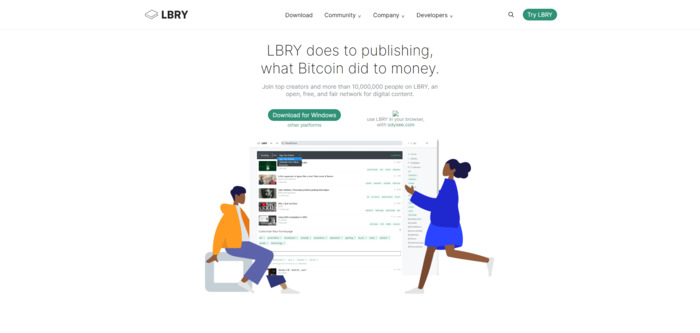 LBRY seeks to decentralize the web by giving Content Creators control over their content as well as access to income streams through the platform's LBC rewards program.
On LBRY, users can choose whether they want their content monetized or pay-per-view, in addition to adding other exclusive features such as timed releases and subscription plans for their videos.
BrandNewTube:
BrandNewTube is a copyright infringement-free video-sharing site with both social media options and uploaded content from individuals around the world.
Users can also join video-based communities and participate in interactive conversations with like-minded individuals.
BrandNewTube also offers its own cryptocurrency, BNT, as well as a subscription platform so you can securely monetize your content in various ways.
Dailymotion: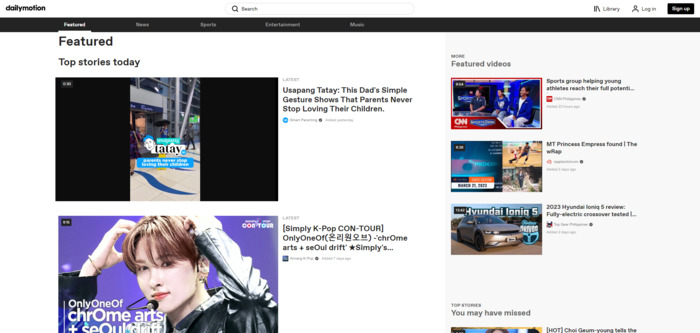 Dailymotion has been around since 2005 and its library of over 300 million files makes it one of the largest options for amateur filmmakers to showcase their work online.
With integrated support for Google AdSense advertising, users have complete control over monetizing their content on the platform.
Vimeo: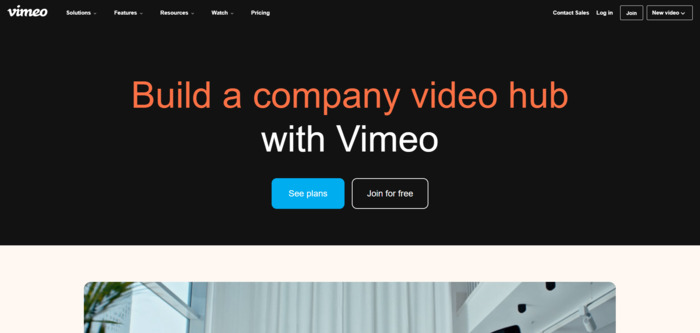 Vimeo is known for its high-quality videos and its sophisticated editing interface, which helps users create beautiful clips quickly and easily.
Its primary focus lies in commercial filmmaking so professional vloggers and filmmakers can reach out to a large audience with minimal effort.
With features such as background music options, password protection of channels, viewer analytics tools, and advertising solutions alongside live streaming options – Vimeo offers a multitude of features unparalleled by other alternatives.
BitTube: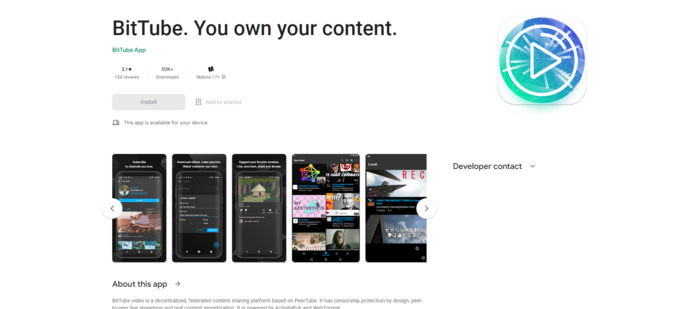 BitTube's decentralized streaming platform takes advantage of cryptocurrency mining to enable users to earn extra income through their content.
It also supports approximately 50 different languages and millions of users who utilize its cutting-edge privacy controls, such as IP masking and encryption methods, which keep user data safe from prying eyes.
PeerTube:
This Open Source decentralized streaming platform has recently seen a rise in popularity and is quickly becoming one of the premiere platforms for discussion topics such as politics, science, religion, and more.
With its unique algorithm which works to protect user rights – PeerTube users can comfortably enhance their online experience without having to worry about censorship or privacy infringements.
Utreon:
Developed by former YouTube engineers Utreon aims to revolutionize content discovery with its advanced AI filter system that matches content to viewers' interests.
Utreon also gives users the ability to upload videos for free just like Brighteon, with video revenue shared between the user and the platform through advertising or subscription subscriptions.
Minds:
Minds is a blockchain-based video-sharing site that rewards its users for their activity on the network.
It allows you to post commercially in exchange for tokens which can be used towards services such as promotions and buying of goods from other vendors throughout their network.
Minds also add layers of privacy and security when it comes to your content, enabling users who want to remain anonymous the opportunity to do so within a secure environment.
DTube: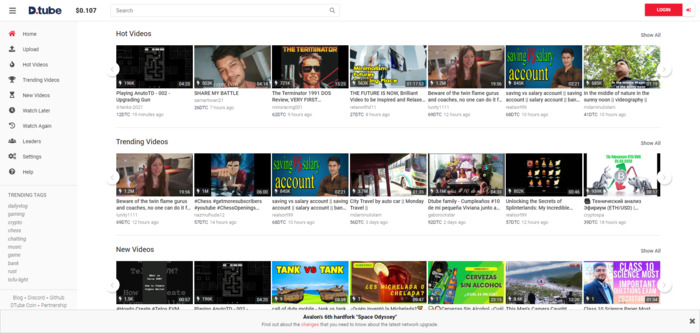 Dtube is an open-source decentralized streaming platform that follows in the footsteps of legacy protocols such as YouTube but without access restrictions or personnel censorship from net giants such as Google or Amazon.
The Steem blockchain incorporates P2P video sharing with "Proof of Play" rewards for high-performing posts, allowing users to monetize their content with extra "tipping".
Flote: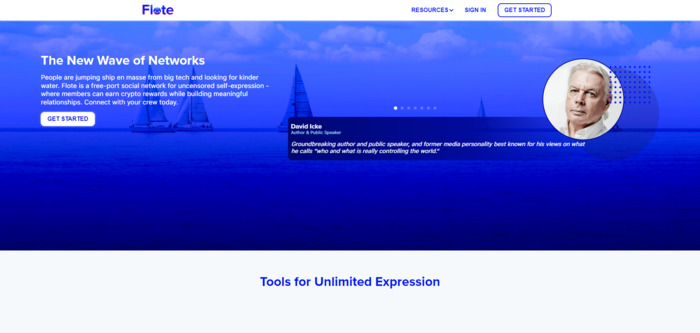 Flote is a decentralized social media platform developed specifically for privacy lovers.
With its user-friendly UI and support for multiple languages – Flote allows you to join conversations focused on topics such as knowledge, news, relationships, and more without having to worry about censorship or data mining algorithms.
3 Speak:
3speak is an open-source digital censorship-resistant platform that allows you to post audio and video content without the fear of being blocked or censored.
It also has a cryptocurrency token, SPEAK, which can be used to reward creators who upload interesting and engaging content.
Liberdon: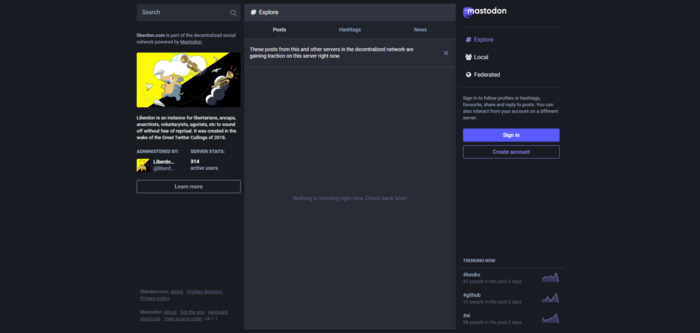 Liberdon is an up-and-coming video-sharing platform with no censorship whatsoever.
As its name implies, it provides users unlimited freedom of expression, with powerful moderation tools to keep inappropriate content out.
It also offers a range of interactive functions including live streaming for discussions and online communities as well as user-generated channels by day or night theme.
GabTV:
Gab TV is an alternative video-sharing platform that features zero censorship, AI-generated advertising codes, and true income options in the form of partnerships or peer reviews.
Additional features include high-definition playback quality without buffering issues and automated audio commentary for a more immersive viewing experience.
NewTube:
NewTube is one of the best alternatives to Brighteon when it comes to secure video streaming without censorship or restrictions.
With its integrated wallet powered by cryptocurrency, users can earn income while they watch videos and advertisers have the opportunity to monetize ad impressions on a per-click basis.
FreedomTube: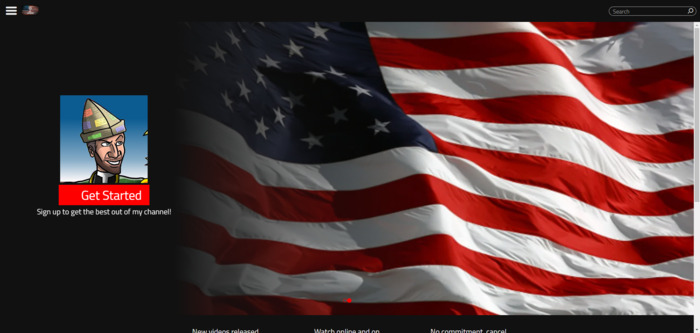 Freedomtube provides all of the features you need for a secure and unrestricted streaming experience.
It ensures all content is always backed up, so even if providers take down your videos due to censorship – you can trust that FreedomTube has your back.
Furthermore, it integrates additional tools such as parental control options and classifying ratings for viewers.
Banned.Video:
Banned Video offers a cutting-edge solution for video-streaming censorship with its decentralized platform which eliminates the risk of content takedowns due to net giant politics.
It also provides an array of monetization options including donation drives, subscription plans, and integration with third-party payment providers.
Brighteon FAQs:
What is Brighteon?
Brighteon is a free social media platform with user-generated content that can be found at www.brighteon.com/. It was launched in 2018 as an alternative to YouTube culture that promotes censorship and lack of freedom regarding speech.
How do I create a Brighteon account?
Creating a new account on Brighteon is free and easy! All you have to do is navigate over to www.brighteon.com, click the "Sign up" button found in the top right corner of the page, fill out all necessary details such as your email address and desired username, then click "Create Account". Once done – you'll be able to begin exploring the world of Brighteon!
How do I upload a video on Brighteon?
Uploading videos is simple and straightforward. Once logged in, click "Upload Video" located towards the top right corner of your screen.
Select either an existing video file or record one with your webcam, choose a thumbnail for it – then type in its title and any relevant tags – before finally clicking "Upload " and waiting a few moments while the video is prepared for streaming.
Are videos on Brighteon age-restricted?
Yes, they are! To ensure user safety, Brighteon warns that any content explicit in nature should not be uploaded without age-restricting it first.
In order to tag your video with its respective confirmation status – click on "Content Advisory" located behind the upload button before submitting it. This will keep kid viewers safe while still giving them access to appropriate content.
Yes, it does! If you want to monetize your videos- Brighteon enables you to enter into a Revenue Share Program wherein 30% of the platform's gross advertising revenue is awarded directly to video creators for each video submitted within 45 days after approval.
Upon approval, viewers will have the option of watching and knowingly supporting their favorite causes – with the total amount contributed back to creators.
Conclusion
Brighteon is a free video streaming platform that provides its users with an answer for censorship and lack of freedom on other platforms such as YouTube.
It offers features ranging from Cryptocurrency mining, unrestricted expression, and monetization through advertising – making it one of the most popular alternatives in 2023The 19 Brighteon Alternatives we discussed offer similarly compelling features and advantages depending on your needs – giving you a greater opportunity to explore the wide world of video streaming online.