As commerce and industry grow and become more competitive, so too does the need for innovative solutions and increased computing capacity. Storage of large volumes of data, improved security and integration between the various systems have become key to remaining efficient, competitive and successful in business. 
Maintaining a state-of-the-art setup in terms of hardware, software and network infrastructure become costly as you try to keep up with the latest technology.
Enter cloud-based computing, with its cost and resource-saving benefits, innovative solutions, flexibility and increased performance capacity. Businesses can now focus on their strategies and targets, while the majority of IT is taken care of remotely. Plus, you get to utilize the latest in technology as it becomes available.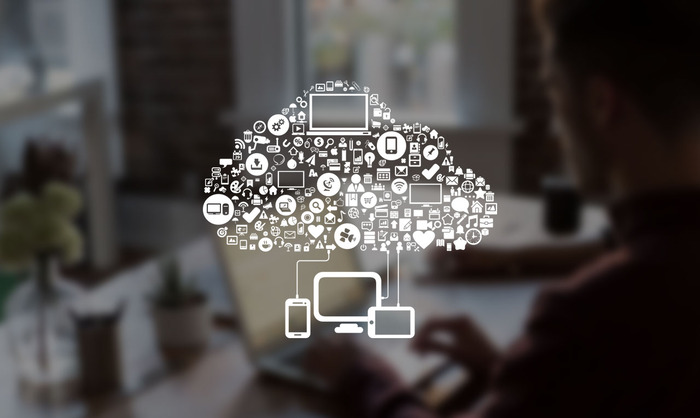 What is the cloud, and what role does it play in business? 
Cloud computing can be separated into three areas of service:
Software as a service (Saas) includes the application programs that drive the processing and storage of your data on remote servers or data centers. It acts as a service between you and the internet. 
Infrastructure as a service (IaaS) refers to the remote servers, virtual servers, data centers and networking that enable you to process and store your data. This access is made available on a pay-as-you-go basis. 
Platform as a Service (PaaS) refers to the development and deployment area where your software tools and programs reside, supporting the development and testing of the software and applications that you use in your business, as well as the backup and retrieval of data. 
There are three types of platforms that allow you to either have your own setup, which allows you to keep control of your data and applications, make use of shared resources while keeping your information secure, or a mixture of both. 
Benefits of cloud infrastructure and computing
Cloud-based solutions provide innovative and strategic solutions to support your business needs by offering: 
Improved availability: Cloud-based solutions provide a high level of availability in the form of maximum uptime, with seamless functioning while server backups or upgrades are taking place. 
Scalability: You can upscale or downscale the amount of storage as the need arises. For example, if your business is seasonal, your storage and application capacity may fluctuate, so it makes sense to only pay for what you use.
Technical expertise: You may be able to reduce the number of technical staff on your premises as many of the technical functions, such as data backups and server maintenance, are managed by the cloud provider.
Security: Advanced security solutions ensure optimal security of your data and applications. This includes centralized management in the form of regular backups and maintenance. In addition, advanced disaster management procedures give you peace of mind, as you know that there is a plan in place. Solutions like those offered by dataknox.io/ encompass a comprehensive suite of advanced security features.
Technology: Cloud solutions provide access to the latest technology to enhance business processes, such as fingerprint scanning and the detection of fraud, forecasting and planning. 
Sole tenancy: If required, you can arrange access to your own server and applications in the cloud. Your developers are able to use the latest technology to develop, test and deploy software considerably faster than the time the same process would take on an in-house server.
Integration: Ease of integration is enhanced with software and data on other platforms, whether they are cloud-based or local in-house systems.
Remote access: Provided you have a stable internet connection, remote access is easy to achieve on most electronic devices, enabling staff to share documents and data with each other and with business partners.
Equipment: Cloud-based solutions minimize the need for expensive hardware, software and network equipment within your business.
What to consider when making the transition to a cloud-based solution
There is a wide range of cloud solutions on offer. The complexities inherent in modern business practices usually require a thorough due diligence process with coordination across areas of the organization. Here are some pointers:
Determine which of your applications are fit to run on the cloud: This should include which of them are cloud-ready, which need to be redesigned and which can be made redundant.
Vendor lock-in: Should you wish to change your provider at some point, make sure that your data and applications are not locked into the vendor. If they are, you risk losing your data, application tools or both. 
Security of your data and access transparency by the cloud provider: Investigate additional levels of password control that can be managed by your company.
Flexibility: Consider the amount of flexibility required regarding the use and modification of applications, database size and accessibility.
Availability: Updates in software or hardware may interrupt your workflow. Establish your level of control regarding downtime. If you work in a different time zone, establish whether interruptions in service are likely to affect you.
Internet dependency: Problems with internet access will affect your operations.
There are three types of platforms to consider: 
Public cloud: As the least expensive option, this requires you to share resources with other users. You will be responsible for the security of your data, but you will be aided by the cloud administration.
Private cloud: This option gives you more control, as you get your own hardware resources which will reduce the risk of security breaches to your data and applications. However, it is more costly.
Hybrid cloud: With this option, you have the choice of keeping some of your applications on your own premises while others are migrated to the cloud. 
Cloud technology is fascinating, and you may want to consider finding employment with a cloud provider, growing your career with access to the very latest in innovative technologies. If this interests you, a Baylor University online master's degree in computer science will help you earn respect in your field and achieve your professional goals. As this is a postgraduate degree, you will need a Bachelor of Science in computer science, mathematics, engineering, physics or a similar subject in order to enroll. 
Conclusion
The stability of your company is dependent on fast, easy access to accurate information. With accurate information at your fingertips, monitoring your business and making timely adjustments where necessary will become second nature, ensuring your success. Enjoy the journey.