With the emergence of new technologies, the marketing industry has also gone through a tremendous change. Even though traditional marketing is still relevant, the digital marketing industry is giving it a cut-throat competition in becoming the main mode of advertising.
The increase in the scope of digital marketing has resulted in many employment opportunities. Businesses are seeking digital marketing professionals to lead their marketing campaigns. An undergraduate degree in digital marketing may help students build a strong foundation but an MBA in Digital Marketing will help them become an expert in the field.
In this article, we are going to provide you with all the details about MBA in Digital Marketing so if you are interested in making a career in this field then, stick till the end.
What is an MBA in Digital Marketing?
MBA in Digital Marketing is usually a 1 or 2-year program that is curated with the aim to provide its students with knowledge on different aspects of digital marketing and also train them with managerial skills.
This program is designed by industry experts who teach all the relevant skills and strategies needed to efficiently manage the digital marketing sector. 
You can check out IIDE's Post Graduation in Digital Marketing program that helps you master the latest digital marketing and managerial skills, and assures 100% placements with a mandatory 2-month internship.
Syllabus in MBA in Digital Marketing
The program is designed to have a hands-on learning experience along with theoretical learning. The syllabus covers topics that provide knowledge on various aspects of marketing and also equip the students with managerial skills. Though the contents and curriculum may differ from one university to the next, the following are some of the most essential subjects that are covered in the MBA in Digital Marketing program.
Topics Covered
Introduction to Digital Marketing

Search Engine Optimization

Search Engine Marketing 

Ecommerce Management

Brand Analysis & Audit 

Consumer Behaviour Analysis

Copywriting 

Design Essentials

Online Reputation Management

Email Marketing

Media Planning

Customer Relation Management

Mobile Marketing

Affiliate Marketing
Managerial Skills
Art Of Pitching

Client Briefing

Presentation Skills

Interview Training

Excel Skills

Management Skills

Organizational Skills
Eligibility Criteria
A graduating degree from a recognized university with a minimum of 50% is usually the most important criteria needed to be met by aspirants while applying for an MBA in Digital Marketing. 
Many colleges also require aspirants to crack CAT exams, which is followed by a college-specific personal aptitude test. Although a personal interview is not a strict eligibility condition, it is used by practically every college to screen applicants and assign seats to the top candidates.
Career Opportunities
The number of opportunities available for an MBA graduate is vast. Usually, students are able to get jobs even while they are still pursuing the program. But those who haven't will undoubtedly have a variety of professional options once the degree is completed.
As one of the fastest-growing industries, the opportunities for a career in Digital Marketing are limitless. Here we have listed some career roles in this sector.
Digital Marketing Manager

Media Strategist

Brand Manager

Client Servicing Manager

Social Media Manager

Paid Media Expert

Online Content Developer

Business Analytics Specialist

SEO Specialist

Web Designer/ Developer

Paid Media Expert

Mobile Marketing Specialist

Account Manager

Email Marketer

Search Expert
Salary Packages
Because of the increased need for digital marketers in the sector, digital marketers' salaries are pretty good. The starting pay for an MBA in Digital Marketing is INR 5+ LPA on average. This is also determined by the work role you choose. Varied roles have different demands, hence the remuneration varies.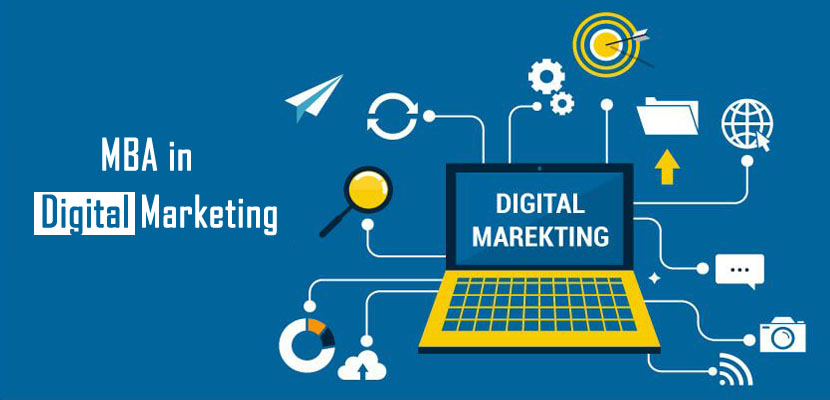 Why You Should do an MBA in Digital Marketing?
Having shifted into a digital era, it was extremely important for the sellers to reach the buyers at a more convenient location, that is, online. Buyers have become more dependent on virtual marketplaces because of the convenience, comfort, and exposure they provide. Thus, giving rise to the digital marketing industry. 
And also students and working professionals alike have always found an MBA to be a highly desirable choice for further education, particularly in the area of Marketing. Candidates with an MBA on their resumes tend to get promoted more easily to managerial roles.
Now with the high demand for digital marketing, there will be a lot of opportunities available to explore the domain of marketing. Digital marketing having creatives as well as technical aspects makes it a good choice for many people out there.
An MBA in digital marketing will not only let you explore the technical and creativity of digital marketing but also prepare you for managerial roles by training you in organizational and leadership skills.
To Conclude,
MBA in digital marketing is a very lucrative field that has a lot of opportunities available in the market. 
Students who are not sure about an MBA, and are looking for a short-term option can consider taking an online digital marketing course.
For students and professionals who are not able to devote much time to the course but still want to learn about digital marketing, this course is usually offered as an alternative. Usually, these courses are up-to-date, short term and have advanced knowledge regarding digital marketing topics.
You can also take a look at our blog on how to achieve the right balance between print and digital marketing, to help you develop a mixed marketing campaign.
Author's Bio

Karan Shah
Founder and CEO at IIDE

Karan Shah is an Edu-preneur, Tedx speaker, Harvard alumnus specializing in eCommerce, and the founder of IIDE – The Digital School.

He is a reputed author on the topics of education, digital marketing, and Ed-techs. Over the years he has penned a plethora of articles in leading news outlets such as Entrepreneur, BusinessWorld, Education Times, and Youth Magazine to name a few.