Windows has long served as a platform for global innovation. It is where struggling companies became famous brands, and since then, it has been the backbone of worldwide corporations.
Microsoft has always come up with an upgraded system each year, setting new bars. The latest Windows updates are breath-taking. Here are the best features of Windows 11 to look forward to if you haven't checked them out yet.
6. Android apps
Android apps are one of the latest innovations of this new operating system. Android apps will finally be available on Windows 11, and they can be accessed through the Microsoft Store. Although they were previously available to, this time, users have direct access to the Android App Support on their Microsoft Windows.
People can access these apps through the Amazon Appstore. Here, they can find any app they need, from Netflix to Spotify playlist, along with a free update. Just download the AppStore, and you can enjoy up to 50,000 apps available there. Nevertheless, the apps are a little different from the Google Play Store.
To enjoy this, you need to sign in to the Amazon account and then look out for the free or paid apps through their search bar, integrated into their cantered taskbar and search bar.
5. Widgets
Besides Android Apps support, there are numerous new features in Windows 11. One of them is Widgets. This new feature will help to display all the latest news. From sports scores to the latest news on the top PayPal casino updates, this new operating system will broadcast the top news stories. Moreover, you can also have a look at your daily calendar and latest photos. To access these, you have to go to the latest taskbar icons, where you will find the option "Widgets." Additionally, there is a maximize button to enlarge it to full screen.
4. Microsoft Teams
The new Microsoft Windows also has a Microsoft Teams integration, one of the best tools for video meetings. Whether the rest of the members are Android Users or iOS users, they will be integrated directly through this tool.
Now the question is, how you will access it? Microsoft Teams is available in the task view. Whether you want to chat with your mates or make video calls, click on the Teams icon and get easy access to this feature. Furthermore, if you press the box at the bottom of the desktop, you can access a full version of this new Windows 11 feature.
3. Desktop
This new version has also made significant changes in its desktop layout. From multiple windows to external displays, it has everything. With this innovation, you can customize the desktop according to your needs. You can change and personalize wallpapers, manage games, or your daily tasks in the new windows. The new windows 11 also has a dark mode similar to Mac OS, the most popular desktop operating system.
Furthermore, while Microsoft's hardware business produces some exceptional foldable laptops and tablets, the company's software has lagged. Windows 11 intends to address some of the most vexing issues by providing bigger touch targets for enlarging Windows.
A small touch keyboard will be placed in the corner of the screen for people obsessed with one-handed typing, similar to how you would type on your phone. The OS will enable feedback signal if you take the help of a stylus, which will make writing with it seem more comfortable.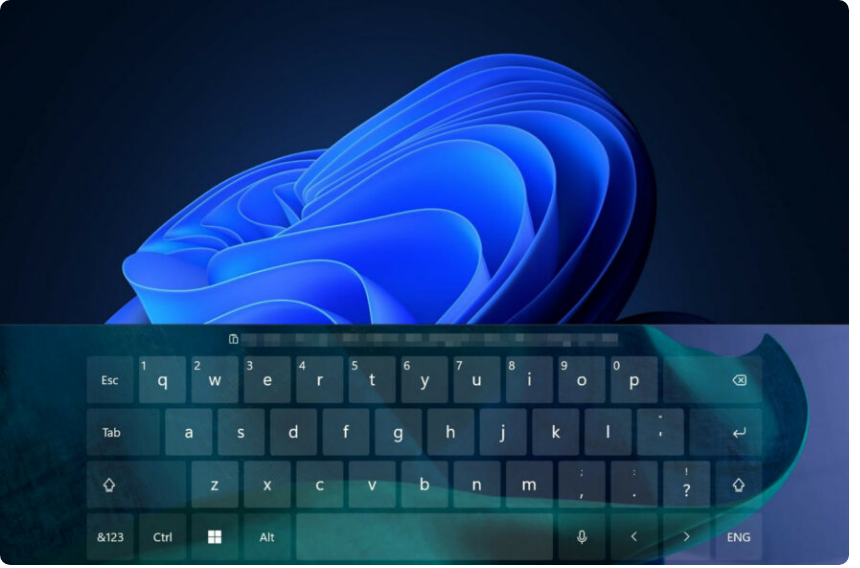 Windows 11 has another enticing feature. It has relocated the taskbar icons to the centre, spreading outward as you add additional icons. It is one of those incredibly tiny improvements that will undoubtedly lead to a lot of discussions. The software is quite basic, and it allows you to centre the taskbar icons, the Start menu icon, or both.
2. Snap Layouts
Snap Layout is another outstanding feature of this windows operating system. Windows 11 has just made your multi-tasking easier with this new feature. It makes sense when you access its multiple window system, and Windows 11 will allow you to organize all the open windows on the desktop in different designs. It will save all of the windows in that configuration.
After opening your PC, you'll see a square-shaped button between the X and the minimize button in the top right corners. Click that to access various layout choices for that window, and then choose the layout and location within the design where you want that screen to appear.
While we are on this subject, here is another fantastic feature of windows 11. It is the live tiles. The Live Tiles option uses a launcher that is more in line with Chrome OS and Android. Rounded corners of the windows will be there, along with applications, recent documents, and a specific search tool.
1. Xbox app
The ne Xbox app is yet another one of the incredible features of Windows 11. There is no denying that Microsoft has always pleased the gamers by making the gaming more fun and exciting after its Xbox Game Pass, and Windows 11 will continue to do so. Thanks to a new Xbox app, the Xbox Game Pass will be embedded easily into the new OS. It will include performance-enhancing features from the Xbox Series, such as Auto HDR and DirectStorage.
Although Auto HDR assists in adding high dynamic range (HDR) to several DirectX 11 and DirectX 12 games for better graphics, the latter is intended to reduce game load times on the new operating system. It would help in rapid and efficient transitions. It will also allow users to stream games from Microsoft's cloud.
In a nutshell, it became one of the hot topics of the Internet when Microsoft announced its next version. Due to its innovative nature, it has always been loved by people. The final release date of the new OS version has been announced, which is October 5. From Xbox cloud gaming to snap groups, windows users are excited to try these Windows 11 features.